Airports Guides
Airports in Latin America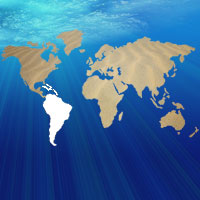 Latin America is a vast continent to the south of North America, comprising 20 independent countries in the Americas, split into a number of notable territories.
The geography of Latin America is dominated by Brazil, the continent's largest country, both in overall area and total population. The offical language of Brazil is actually Portuguese, while the majority of the remaining countries, such as Argentina, Colombia, Paraguay and Venezuela, speak Spanish.
With a particularly diverse population made up of many different ethnic groups, Latin America predominently features Native America descendants, while the inhabitants of Bolivia, Guatemala and Peru have Amerindian ancestors.
Africa - Asia - Australia - Europe - Latin America - North America


AIRPORTS IN ANTIGUA AND BARBUDA

Consisting of two main islands on the western side of the West Indies, Antigua and Barbuda are considered a single country, together with Redonda, a smaller island close to southwestern Antigua. The island nation of Antigua and Barbuda lies between both the Atlantic Ocean and the Caribbean Sea.

Saint John's is the country's capital, located on the island of Antigua, while Barbuda's most important town is Codrington.

Antigua VC Bird Airport (ANU)

AIRPORTS IN ARGENTINA

The second-biggest country in the whole of South America, Argentina occupies a vast area. Standing to the west of the Atlantic Ocean and alongside the Andes mountain range to the east, Argentina is edged to the north by Bolivia, Brazil, Paraguay and Uruguay, with the Falkland Islands to the southeast.

Argentina is divided into 23 main regions, and further districts. Buenos Aires is the capital city and can be found along Argentina's eastern coast.

Buenos Aires Ezeiza Airport (EZE)

AIRPORTS IN BAHAMAS

The Commonwealth of the Bahamas is situated in the West Indies, with the Atlantic Ocean to the east and Florida to the north. Comprising around 700 stunning islands, the Bahamas is a true tropical paradise, with endless stretches of sandy coastlines and glorious beaches.

Many of the most popular resorts in the Bahamas line the shore, next to the inviting waters, with the official language being English. Nassau is the capital city, sitting on the island of New Providence.

Bahamas Nassau Airport (NAS)

AIRPORTS IN BARBADOS

One of the Windward Islands on the eastern side of the West Indies, Barbados is an enticing country, with a tropical climate and enviable location, between both the North Atlantic Ocean (east) and the Caribbean Sea (west).

The nearest neighbours to Barbados include the Caribbean state of Saint Vincent and the Grenadines, and Saint Lucia. The island is divided into 11 main regions, with Bridgetown being the capital of Barbados.

Christ Church Grantley Adams Airport (BGI)

AIRPORTS IN BERMUDA

The Bermuda Islands are a British crown colony, consisting of around 150 small islands, situated in the North Atlantic Ocean, to the east of North Carolina. Inhabited since the early 1600s, Bermuda offers a subtropical climate, which is greatly influenced by the Gulf Stream.

Bermuda is an English-speaking country and part of the overseas United Kingdom. Hamilton is Bermuda's capital and sited in the centre of the main island.

Hamilton Bermuda Airport (BDA)

AIRPORTS IN BRAZIL

The biggest country in South America, Brazil is the continent's premier economic power, located to the east of the Atlantic Ocean.

Encompassing an enormous area, officially known as the Federative Republic of Brazil, the country is famous for its Easter carnival season, particularly in the city of Rio de Janeiro. Split into 27 different regions, Brasilia is the country's capital city, although Sao Paulo is far larger.

Rio de Janeiro Galeao - Antonio Carlos Jobim Airport (GIG) Sao Paulo Congonhas Airport (CGH)

AIRPORTS IN CAYMAN ISLANDS

The Cayman Islands are a group of small individual islands in the Caribbean Sea, comprising Cayman Brac, Gran Cayman and Little Cayman. George Town is the capital of the Cayman Islands, one of seven main districts.

Part of the overseas empire of the United Kingdom and the British West Indies, the Cayman Islands lie to the northwest of Jamaica, and directly south of both Cuba and Miami.

Grand Cayman Island Owen Roberts Airport (GCM)

AIRPORTS IN JAMAICA

An island nation situated to the southeast of Cuba, Jamaica is the third-biggest island in the Caribbean, with the Atlantic Ocean lying to the east. Jamaica features an appealing tropical climate, with lush rain forests, exotic palm trees and truly breathtaking white sandy beaches.

Notable cities in Jamaica include Mandeville, Montego Bay, Ocho Rios, Port Antonio and Spanish Town. Kingston is both the largest city and capital.

Montego Bay Sangster Airport (MBJ)

AIRPORTS IN PERU

Peru can be found on the western Pacific Coast of South America, dissected throughout much of its length by the Andes. Bounded to the north by both Colombia and Ecuador, Peru is famed for its Inca Empire and ancient civilisations.

The country of Peru features a varied landscape of tropical jungles, scenic coastal areas, the Sechura Desert and large lakes, including Lake Titicaca. Divided into 25 regions, Peru's capital city is Lima.

Lima Callao Jorge Chavez Airport (LIM)

AIRPORTS IN ST LUCIA

The island of St. Lucia is located between the Atlantic Ocean and the western side of the Caribbean Sea. St. Lucia is part of the Lesser Antilles of the West Indies and stands to the north of Venezuela, Guyana and Brazil, and to the south of Martinique, being divided into 11 main areas.

St. Lucia is a particularly volcanic island, characterised by its mountainous scenery. An English-speaking country, Castries is the capital city.

Vieux-Fort St. Lucia Hewanorra Airport (UVF)

AIRPORTS IN TRINIDAD AND TOBAGO

Trinidad and Tobago is an appealing country comprised of two separate islands and 21 smaller isles, situated in the Caribbean Sea, to the north of Venezuela. The biggest and most densely populated of the two islands, Trinidad lies to the south of nearby Tobago and features many ethnic communities.

The Port of Spain is the country's capital city and is surprisingly large, occupying an area of the northwestern coast of Trinidad.



Trinidad Piarco Airport (POS) Tobago Crown Point Airport (TAB)
Continent Map of Latin America