Airports Guides
Airports in Africa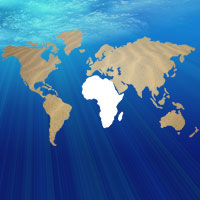 The second-biggest continent in the world, Africa has a total surface area exceeding 30,000,000 square kilometers / 11,600,000 square miles, divided into 61 main territories.
Home to over 12% of the world's population, Africa features a particularly variable climate, with the northerly region being extremely arid. Both central and southern Africa contain lush jungles, vast savanna plains and national parks - where elephants, giraffes and lions roam freely.
Notable countries in Africa include Ethiopia, Tanzania, Kenya and Zimbabwe in Eastern Africa; South Africa, Botswana and Namibia in Southern Africa; Nigeria and Ghana in Western Africa; and Egypt and Sudan in Northern Africa.
Africa - Asia - Australia - Europe - Latin America - North America


AIRPORTS IN EGYPT

Situated in North Africa, Egypt is a spectacular country, famed for its historic structures and vast deserts, including the Sahara. Lying to the east of the Suez Canal, Egypt's northeasterly tip is connected to Asia.

Egypt is sited next to both the Mediterranean and Red Seas, with Cairo being the capital, lying alongside the River Nile. Home to remains of an ancient civilisation, highlights include the pyramids, sphinx, and Valley of the Kings.

Cairo Airport (CAI) Luxor Airport (LXR)

AIRPORTS IN SOUTH AFRICA

South Africa is located on Africa's most southerly tip, surrounded by the Indian Ocean (east) and the Atlantic Ocean (west), and bordered to the north by Botswana, Mozambique, Namibia, Swaziland and Zimbabwe.

South Africa is home to three separate capital cities, Bloemfontein, Pretoria, and Cape Town, while Johannesburg and Durban are actually the largest cities.



Cape Town Airport (CPT) Durban Airport (DUR) Johannesburg Airport (JNB)
Continent Map of Africa